TAGMe DNA Methylation Detection for Pan-cancer
Product Detail
Product Tags
Minimally invasive treatment: Extract at least 3mL Peripheral venous blood or other relevant clinical sample types
Accuracy: Adopt big data and AI algorithm, test specificity≥95%
Versatility: One detection could cover 25 high-incidence malignant tumors.
Early stage: Intervene from the ultra-early screening of cancer, throughout the whole process of tumor diagnosis and treatment.
Convenience: Adopt the gold standards for methylation detection - pyrophosphate sequencing  technology, can complete the test within 4 hours.
Authority: With 54 international and domestic patents, the relevant research results have been published in Cancer Research, Genome Research and other international famous magazines.
The whole-cancer detection is the plasma ctDNA methylation test products that are developed by TAGMe, which requires at least 3ml of whole blood to effectively capture and determine the methylation status of ctDNA's special positioning points, so as to achieve the early screening and accurate monitoring of the tumor. 
In the verification of more than 3000 clinical samples, the methylation level of TAGMe in tumor tissues was significantly higher than that of normal tissues. Therefore, TAGMe can be applied as a pan-cancer marker to the detection of various cancers. 

Histone-related genes are hypermethylated in lung cancer and hypermethylated HIST1H4F could serve as a pan-cancer biomarker
--- Cancer Research, IF: 12.7 
As a pan-cancer marker, TAGMe has high specificity and sensitivity in clinical sample verification, which has indispensable reference value for the clinical diagnosis of tumors.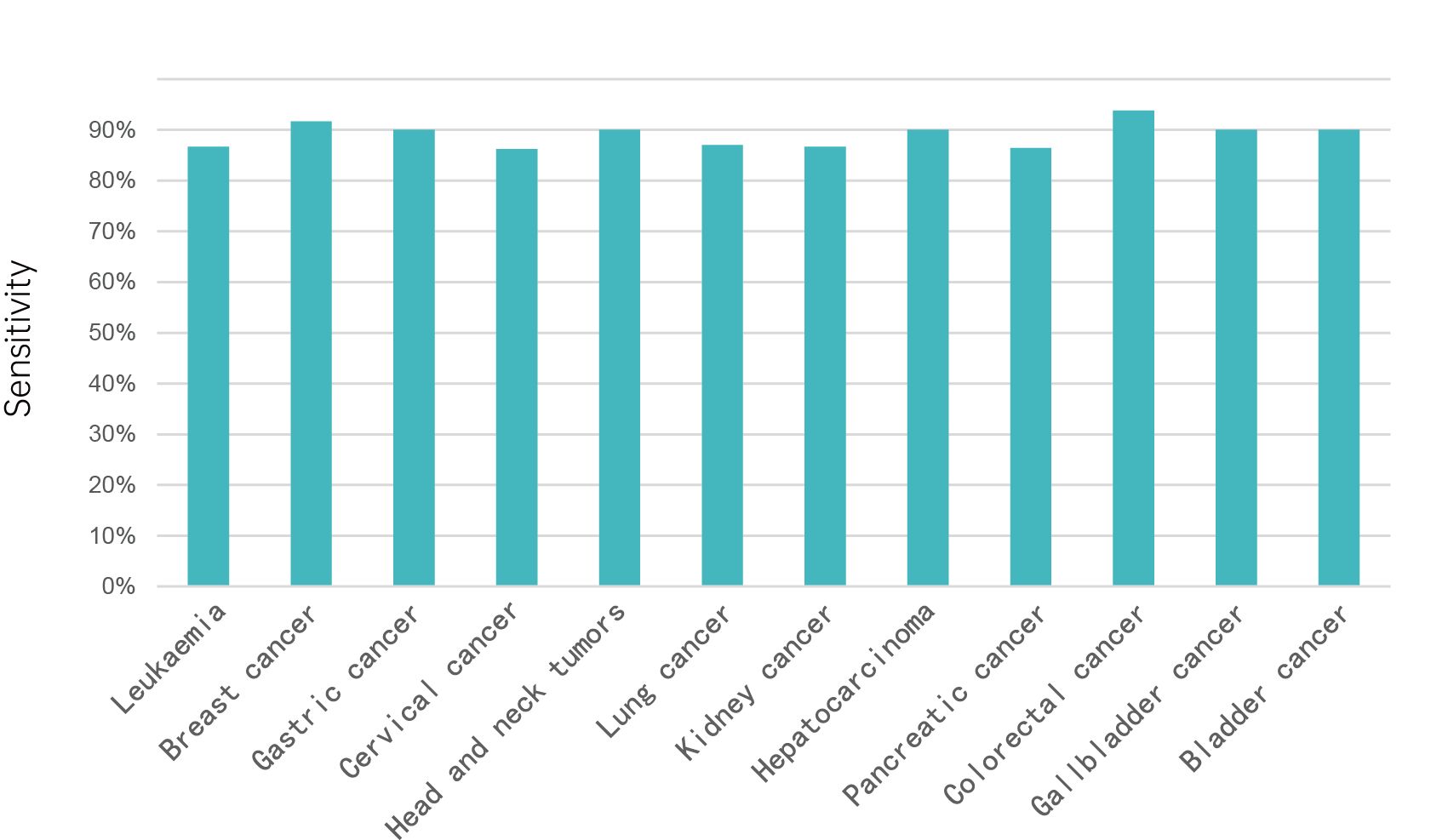 TAGMe's sensitive in different tumor samples when the specificity is greater than 95%, 
Family history of cancer: Cancer patients in immediate or collateral relatives.
Viral infection and chronic diseases: Such as HPV, HBV and other viral infection, intestinal polyps, chronic atrophic gastritis and liver cirrhosis, etc.
Exposed to the carcinogenic environment for a long time: Exposed to the radiation environment or hazardous chemicals for a long time.
Suspected tumor symptom: such as irregular vaginal bleeding, hematochezia, urine, lung nodules, unexplained low fever or emaciation, etc.
Poor long-term living habits: Long-term smoking or passive smoking, excessive drinking, hot eating or hot drinking, intake of high salt, pickled, moldy, smoked and fried foods, etc.
Pay attention to the own healthy conditions: especially for the group aged above 40
---
Previous:
Nucleic Acid Extraction Kit (A02)
Next:
---
Write your message here and send it to us